Here is the first image of the seven dwarfs as they'll be seen in Disney 's 7D. I reported on the show as much as a year ago, and it's not going to screen until 2014, but they're far enough along to release character shots.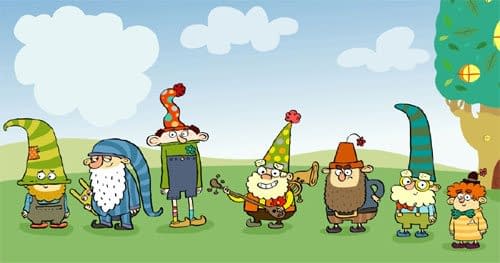 The redesign was done by Noah Z. Jones, the creator of Fishhooks, in collaboration with director Tom Ruegger, a veteran of Animaniacs.
That's a lot of talent.
Purists are probably having a fit, but I'm all for it. The show might end up being a turkey but sticking to 1930s character designs wouldn't do a thing to change that.
As far as we know, Snow White has no part in this show. Probably a good thing. I've been starting to get a bit sick of her lately.
Enjoyed this article? Share it!