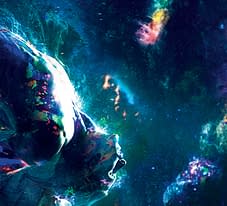 Marvel Studios president Kevin Feige gave Empire (via Comic Book Movie) a nice clue into some of the goings on in November's Doctor Strange. Namely: a look at the Dark Dimension.
"We see glimpses of something called the Dark Dimension," Feige explained. "But if you were to open a Doctor Strange comic drawn by Steve Ditko, you would see the Dark Dimension is, in fact, very colorful in an extremely psychedelic way. Those are the things we're not shying away from."
That certainly tracks with concept art originally published by Entertainment Weekly, but you never know if a Marvel Comics concept will get renamed when it transitions to film. It also adds some fuel to the fire that Mads Mikkelsen will play Dormammu, as CBM points out.
The film will chart Stephen Strange's journey from brilliant surgeon to Sorcerer Supreme and introduce the mystical facet of the Marvel Universe to its predominately technology-based cinematic counterpart.
Doctor Strange arrives in theaters on November 4th, 2016.
Enjoyed this article? Share it!