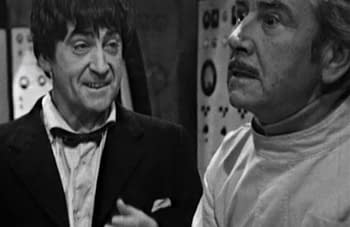 If you live in the US and possess all the classic series DVDs of Doctor Who, there is one 25-minute segment not yet technically available to you on DVD: episode two of the 1967 story "The Underwater Menace." Recovered in 2011, the episode is the earliest surviving full episode feature Patrick Troughton as the Doctor and was intended for release in 2014. The release — to feature animated recreations of episodes one and four — was ultimately cancelled, but according to TVShowsonDVD (via Doctor Who News), "The Underwater Menace" will arrive in the US on January 19th, 2016.
The title, minus the originally planed animated reconstructions, was released in the UK in October.
Presumably, the US version will be identical to that UK release, featuring the two surviving episodes, non-animated recreations of episodes one and four using audio recordings and a number of special features including a commentary track by participants in the story.
While a number of early Doctor Who episodes are still missing and possibly waiting to be discovered, this last US release likely brings a close to the classic Doctor Who on DVD.
Enjoyed this article? Share it!