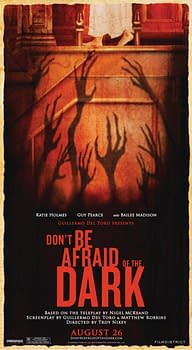 It's almost that time of year again. The one between mid-June and the end of August. The one during which I tell you that Frightfest is my favourite film festival, and why, and that it's not really to do with the fact it's all horror films, though that's pretty cool, but instead it's about the way the festival is put together and run and really, if you love films, you should get yourself a weekend pass and come join in the party.
Our first missive from the Film 4 Frightfest press office for the year announces the opening and closing night galas. Getting the festival off to a start will be Troy Nixey's Don't Be Afraid of the Dark, a film I've been following pretty closely here at Bleeding Cool. Co-writer/producer Guillermo Del Toro is a Frightfest friend, so this isn't a surprise, but very welcome indeed.
Then, to round things off, the festival will see the European premiere of A Lonely Place to Die. Here's how the press release sets it up:
Set in the Scottish Highlands, a group of mountaineers discover a young Serbian girl buried alive in the wilderness. In their attempt to get the girl to safety they become caught up in a terrifying game of cat and mouse.
The film's director, Julian Gilbey, is quite the renaissance man having directed, edited, shot, costumed, done make up for and acted in a series of films, most recently Rise of the Footsoldier. His Lonely Place star Melissa George was well feted at the fest a couple of years back when she appeared in Chris Smith's Triangle.
Somewhere else in the program will be Troll Hunter, the faux-documentary about a… troll hunter. Again, something I've waxed lyrical about before, and a film that's bound to get a good deal of coverage here as we approach release.
The full Film 4 Frightfest program will be announced on July 1st, with passes going on sale on the 2nd. Meanwhile, you can check out the new edition of the Fest's online magazine, as published this afternoon.
Enjoyed this article? Share it!