This Tuesday night, ABC will air the one hour Marvel Studios infomercial, Assembling a Universe, and I can't wait. The biggest draw will likely be the Avengers 2: Age of Ultron material, and the network know it, censoring this material from their preview screeners.
But the Guardians of the Galaxy business was all left in. Here's how Idle Hands describe what they saw:
Next, we head into Guardians of the Galaxy, which is a "blink and you'll miss it" fly by of the production with quick quotes from actors, performances in front of green screen, better looks at Ronan in his full costume and just enough visuals to hook a new viewer, but no further exploration past the bits we've seen already, and certainly no key moments to knock those on the fence, off. This is just a taste of the film, moving at break neck speed, with images cutting away so fast I challenge the top geek websites to gather decent screen grabs!
If I lived in the US, I'd certainly try.
But perhaps Idle Hands were being a touch disingenuous, as they are already offering a screen capture from the sequence. And here it is.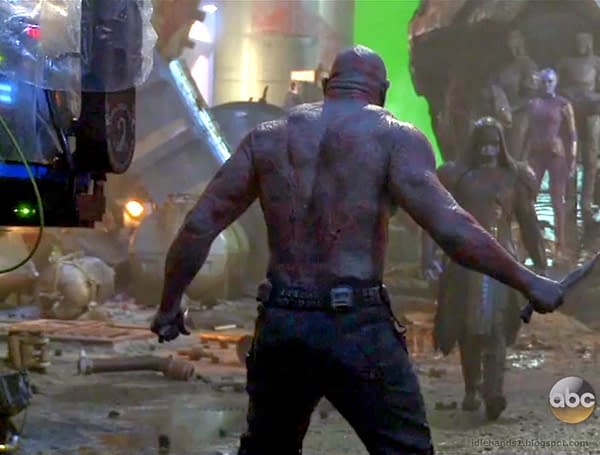 Much more after the special airs, I'm sure.
Enjoyed this article? Share it!