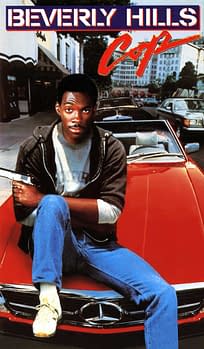 Sadly, Shawn Ryan and Barry Sonnenfeld's pilot for a Beverly Hills Cop TV show found no takers.
We heard very good things about the show, and there was certainly a lot of talent involved. Then, at the same time, the very prospect built up a lot of buzz even where the pilot hadn't been seen. It seemed like a lot of my colleagues in the blogosphere were at least curious if not flat-out enthusiastic.
And apparently it's this that's convinced Paramount to press ahead with development on a fourth Beverly Hills Cop feature film.
Again.
According to Deadline, Eddie Murphy is already set to reprise the role of Axel Foley for this fourth time. I guess we might suppose he's still the protagonist, unlike in the TV show's spin, which would have seen Brandon T. Jackson in the lead as a next-gen Foley, Axel's son, and with Murphy popping up in a supporting role here and there.
The new screenplay, and it's the latest in a pretty long line over a good number of years, is being written by Josh Appelbaum and Andre Nemec. Their next credit will be for the Ninja Turtles do-over, but they're probably best known, and respected, for their work on Brad Bird's Mission: Impossible movie.
Axel Foley is still a very relevant, and potentially very funny character, and it'd be great to see Murphy get back in the hot seat on something less than nightmarish. There's potential, too, in catching up with Foley now he's grown up some. I'm certainly rooting for this to all come together.
And for the studio and Murphy to not fall back on Brett Ratner as director. Surely there are plenty of more exciting choices? I know Phil Lord and Chris Miller have kinda sorta done this type of thing already with 21 Jump Street, but aren't they more the kind of direction we'd want Paramount to be thinking?
Incidentally, I was in a car passing the Police Station in Beverly Hills no less than 24 hours ago. Truthfully. Maybe I should have said a good luck prayer or something.
Enjoyed this article? Share it!