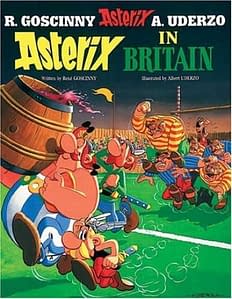 As well as the upcoming 3D, animated Asterix movie, to be adapted from The Mansions of the Gods, there's a new live-action movie coming – also in 3D. Of course.
There's been a couple of live action actors to play the tiny, power-packed Gaul already, but Allocine have word that the role has been recast again. After speaking to his agent, they're reporting that it is "more than probable" that Edouard Baer has the role.
Hang on. Edouard Baer. Like Edward Bear. Like Teddy Bear. Excellent!
The film will be called Asterix and Obelix: God Save Britannia! and would appear to be based upon Asterix in Britain. That book was already adapted into a cartoon film in 1986, but it is a good one with comedic plot points about tea breaks, the labour movement, rugby and the Tower of London.
Laurent Tirard is on board to direct and co-wrote the script with Gregoire Vigneron. Reputedly, Tirard one of those young, hot-shot types who look to American blockbusters for inspiration. Hopefully he'll be able to give the film a little flash of spectacle and some polish. Even more hopefully he'll nail the satire and characterisation.
Enjoyed this article? Share it!