December is getting closer, and with it the release of Star Wars: The Last Jedi. Director Rian Johnson's follow-up to J.J. Abrams's Star Wars: The Force Awakens will set the tone for the the future of the galaxy far, far away.
Entertainment Weekly just released a look at their upcoming December magazine, with its four Star Wars-themed covers featuring familiar faces and some newcomers: In the issue, a short interview with Johnson talks about the duality teased in the various trailers:
"There's a history in Star Wars of the attraction between the light and the dark, whether it's the story of Anakin basically turning from this sweet kid and seeing his seduction to the dark side, or even with Luke.

Even though you never really believe he's going to go over to the dark side, the whole revelation of 'I am your father' has to do with Vader and this darkness that [Luke] thought he could just dismiss as 'That's the bad guy. I don't have any of him in me. Suddenly he realizes 'No, I come from him. I have quite a bit of him inside me.'"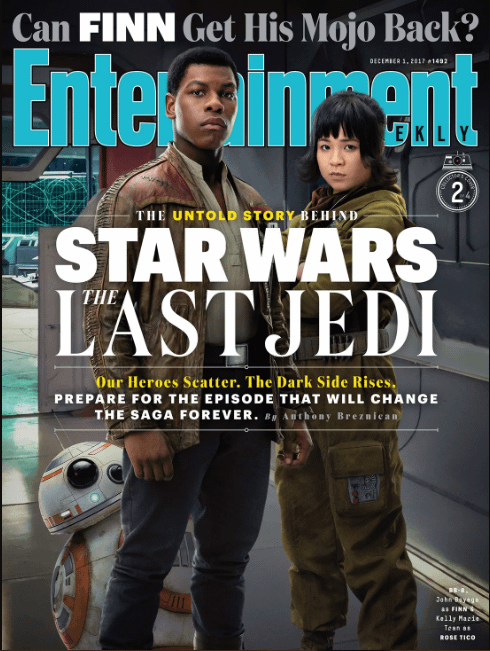 EW goes on to say of this pairing that Poe's personal history, training, and loyalty lies with Leia — but what he doesn't realize is, so does Holdo's. Both learned everything they know from the princess-turned-general. There were also a handful images from The Last Jedi released for the December EW issue: Star Wars: The Last Jedi hits theaters on December 15th.
Enjoyed this article? Share it!