The holiday issue of Entertainment Weekly will be hitting news stands soon, and it features a practically perfect pair from Mary Poppins Returns on the cover.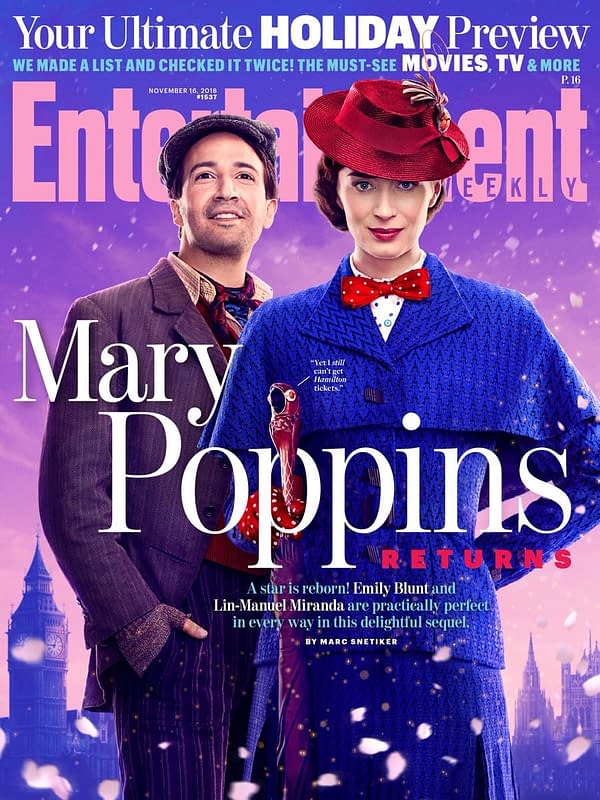 Lin-Manuel Miranda and Emily Blunt grace the cover of the new EW issue, as their characters Jack and Ms. Poppins respectively.
EW gave us a bit of a tease of what we can expect in the issue, including interviews with Miranda, Blunt, Meryl Streep, and Mary Poppins Returns director Rob Marshall. Blunt, while discussing the three year road to completion of the film, says the process of the production was "cloaked in a sense of protection."
In Disney's "Mary Poppins Returns," an all new original musical and sequel, Mary Poppins is back to help the next generation of the Banks family find the joy and wonder missing in their lives following a personal loss. Emily Blunt stars as the practically-perfect nanny with unique magical skills who can turn any ordinary task into an unforgettable, fantastic adventure and Lin-Manuel Miranda plays her friend Jack, an optimistic street lamplighter who helps bring light—and life—to the streets of London.
Mary Poppins Returns is set to hit theaters on December 19th 2018.
Enjoyed this article? Share it!