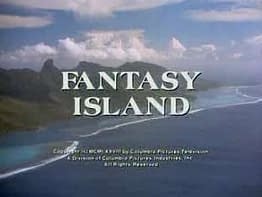 It seems we have not yet hit Peak TV Nostalgia as Deadline reports a remake of the ABC series Fantasy Island is in the works once again at ABC.
The original program, which ran from 1977 to 1984, featured an island in the Pacific where guests paid a genial, white-suited man for elaborate fantasies, but often learned deep truths about themselves. ABC tried reviving the series in 1998 starring Malcolm McDowell as a black-suited and often sharp-tongued version of Ricardo Montalban's Mr. Roarke.
This time, Roarke will be a woman who "runs a San Francisco-based company that provides clients with his or her most intimate, dark or outlandish fantasy." Also gone is the titular island. Presumably Tattoo and the signature "de plane" will be absent as well. Deadline reports the original show's two-fantasies per episode format will be retained, but it will also feature a serialized arc about Roarke.
Re-energizing old TV brands appears to still be hot, with even Barney & Friends expected to return soon. It remains to be seen, however, if any of the warm feelings viewers might have for these shows will turn into renewed success.
Enjoyed this article? Share it!