Fifty Shades Freed Review: For Fans A Satisfying End; Little Ado For Everyone Else
[rwp-review-recap id="0"]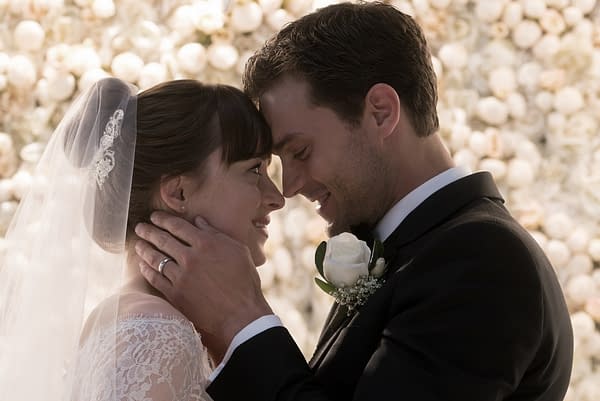 It's been three years since the first film installment in the trilogy based on the novels by E. L. James, and here we are with the final installment, Fifty Shades Freed. The Fifty Shades films (and books for that matter), are the kind that have their devotees, who will flock to it over it's opening weekend, and everyone else will shake their heads, mystified about what the fans see in it. I will admit to being in the latter camp, but this time director James Foley and screenwriter Niall Leonard have coaxed out a story that's at least a bit more tolerable to sit through.
Opening up with Anastasia Steele (Dakota Johnson) marrying Christian Grey (Jamie Dornan) and launching off onto a lavish honeymoon, the story is more of a character study in Ana finding her own identity and backbone. When Christian tries to keep her confined as a possession, she does her own thing and when he asks her why she disobeys him, she replies, "because I can." He still tries to play the role of overly-jealous boyfriend, but this time she pushes back. The drama comes in the form of Jack Hyde (played by Eric Johnson), who was Ana's original boss back in 50 Shades of Black. He's stalking the newlyweds, causing Christian to get full time security guards for both himself and Ana. There's a side thread regarding an architect who's overly handsy with Christian (and any other male she can get ahold of it seems), but it never really develops into anything. It feels like there was another draft of the script that might have had something going with it, but its resolution fell on the cutting room floor. Another scenario has everyone running off for another vacation to Aspen, but there's little actual narrative reason for the whole segue since it could have been done as readily with everyone just heading out to a fancy restaurant at home.
Johnson and Dornan have handicapped the films from the start with having absolutely zero chemistry. Neither have had the opportunity in other works to show if they actually have significant acting chops, but here they phone it in. When there's more heat in a Cinemax episode of Red Shoe Diaries than in a major feature film, there's a problem. For a series of novels which has erotica and BSDM as some of its primary hooks, it never succeeds in being tittelating or sexy. There's more than a half dozen sex scenes between Ana and Christian, most of them once again milktoast vanilla. It's supposed to be a BSDM playground, with Christian's Red Room is chock full of block, tackle, and toys, and over three films, they're barely used. Sure, each film sees a minimal upping of the kink factor, this time we're pulling out another plug (in this case a relatively large glass number). And there'll be no few google searches for the phrase "topping from the bottom" before the next week is through.
There's nothing wrong with the spirit of these films (developing popcorn-fluff erotica pieces aimed primarily towards a female demographic), but it would be nice if some were developed with better stories and far better casting choices. But for now, and just in time once again for Valentine's Day, we have Fifty Shades. If you're a fan, you'll probably really enjoy it. You get to see your wish-fulfillment selves up there on the screen (in whichever role that happens to fit), with all the money in the world and sex dungeon. The film gets a bonus two stars for me for the improvements they've made on Ana's character and her ability to push back on Christian enough to still demand to have her own identity, job, and stake in the relationship.
[rwp-review-ratings id="0"]
[rwp-review-form id="0"]