This episode Jason talks to the creative minds behind the Adapt or Perish podcast, a bi-weekly show that examines adaptations of all kinds, whether stage to screen, book to television, comic to blockbuster, or film to musical and back again. The hosts are Arielle Lipshaw (dramaturg, director, voiceover artist, and knitting enthusiast) and Jeremy Latour (filmmaker and media geek). You can find their show wherever you find your podcasts and at https://www.adaptorperishcast.com/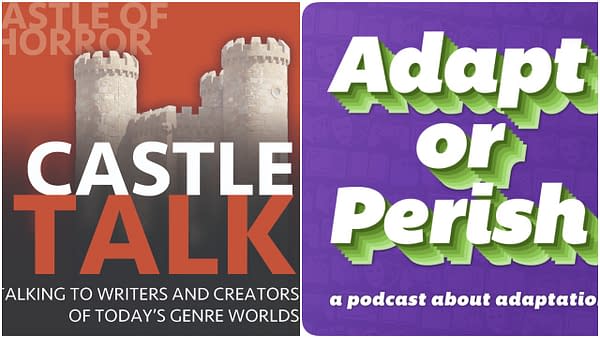 The question of how to discuss adaptation is tricky– the hosts found that their best conversations come out when they can dive deep into works that have had many iterations, allowing them to compare and contrast, such as with perennial works like Dracula, Frankenstein or Little Women or the various incarnations of Sherlock Holmes. They've created a ranking system ("The Quadrants") that tracks how much the creators of a film seemed to care about the underlying work versus the resulting quality of the work. (They're quick to point out that "this is, of course, subjective.") Some of the best moments come when they stop to dramatically read from the pages of books that have been adapted, especially hilariously soapy moments in Peter Benchley's Jaws. Jaws turns out to be a book that stands nearly alone as a classic, focused film from a wayward, unfocused book.
The Adapt or Perish podcast is all over the place– you can hear them on Apple Podcasts, Spotify, Overcast, Stitcher Radio, and Google Play Music and find them on Instagram, Twitter, Facebook, or email them at adaptorperishcast@gmail.com.
Listen to this interview here:
Listen on YouTube:
Jason Henderson is the host of the Castle of Horror and Castle Talk Podcasts, the editor of the Castle of Horror Anthology series, and the author of Quest for the Nautilus: Young Captain Nemo from Macmillan Children's Books. His new horror novel, under the pseudonym Peyton Douglas, The Book Man, debuts on June 2.
Enjoyed this article? Share it!