 Not having seen certain television series can sometimes make you feel at times like you've missed out on a significant pop culture phenomenon. I've had a lot of people reference Homeland in conversation assuming that I've seen it and when I tell them that I haven't they insist that I must, as quickly as possible.
I'll therefore be taking advantage of Amazon's current deal on season one of the box-set, which is currently priced at $24.99. That's 64% off the RRP and even with shipping it works out cheaper to import it to the UK than buy the UK box-set. The US and UK sets are both region locked though so if you don't have a mult-region player then importing it would be unwise.
The UK set is currently £27.56 on Amazon though so there's not that much in it if you're thinking of picking it up.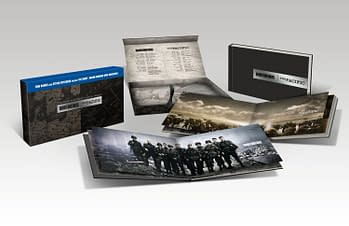 Amazon also have a very good deal right now on the Band of Brothers/The Pacific box-set. The set is listed as a 'Special Edition Gift Set' and the discs are housed in rather nice packaging, which features a book with a number of images from the two series. The set includes everything from the two individual box sets released for the series, plus on exclusive special feature entitled He Has Seen War.
Amazon are currently selling the Special Edition Gift Set for $66.99, which is 58% off the RRP. The individual sets of Band of Brothers and The Pacific are currently selling for more than 40% off at Amazon but even at that price it's still cheaper to buy the gift set, by almost $20.
Enjoyed this article? Share it!