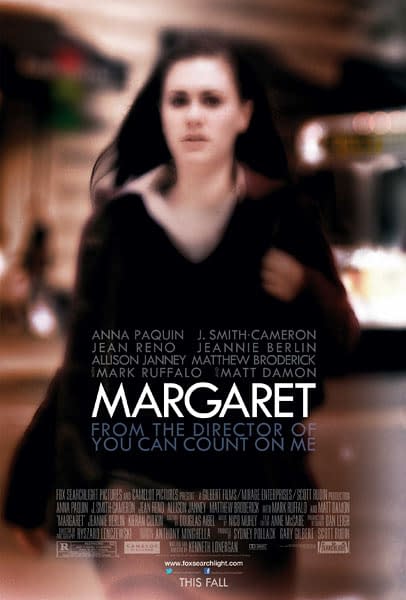 Let's do the time warp again.
This is the first trailer for Margaret, a film that Kenneth Lonergan wrapped in 2005 but which is only now seeing a release. Along the way, many different edits of the film were made, and Lonergan seemed to be having trouble cutting the film sufficiently to please his distributors. They were concerned with running time, he was concerned about the form of the film as a work of art.
You'll have to tell me if you find the hairstyles and fashions conspicuous, or if Matt Damon, Anna Paquin, Mark Ruffalo et al look odd to you, those six years younger than today. Does this look like a period film to you?
[youtube]http://www.youtube.com/watch?v=fJs5al-zVYs[/youtube]
More meaningfully, the film is going to be rooted in its time by being a response to the events of September 11th 2001. The script – which is huge, engrossing and tremendously affecting – was both timely and, in its underlying themes, rather timeless.
It's still not clear what cut of the film we're going to be seeing – but, really, for a film with this level of niche interest, so far off the mainstream, there's no reason to not release the cut that Lonergan is happy with. Hacking this down to try and fit it between the tentpoles propping up multiplex would just be a waste of everybody's time. Butchery won't work creatively and it won't work financially.
Enjoyed this article? Share it!