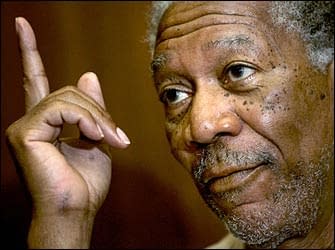 Riddle me this: what is more awesome than Morgan Freeman? How about Morgan Freeman playing an ex-stage magician who is shunned by the stage magician community for pulling a Penn & Teller* and telling people how illusions are performed?
Now You See Me is the latest offering from Louis Leterrier (The Transporter, The Incredible Hulk), with a screenplay by Boaz Yakin (The Punisher, Prince of Persia: Sands of Time) and Edward Ricourt (Abraham's Daughter), and other cast members already signed up include Mark Ruffalo, Amanda Seyfried and Jesse Eisenberg.
The plot of the film, as far as I can gather, is about a team of FBI agents (except if they're played by Seyfried and Eisenberg they'll look more like the FBI's work experience kids) who are set the tasking of tracking down and catching a group of illusionists-turned-bank-robbers called the Four Horsemen, who stage elaborate heists during their performances. I hear it's based on a true story of some guy who stole the Statue of Liberty for about 10 seconds, but then had a fit of morality and returned it straight away.
According to Jeff Sneider of Variety, Freeman is in talks to star in the above-mentioned role, as a consultant to the FBI during their investigations. The creative team doesn't have me brimming over with confidence just yet, but with Morgan Freeman onboard, this would definitely make my must-see list.
Let's face it, his voice alone is hypnotic enough to make him a perfect casting choice as a magician.
*Brendon's note: Erm… sort of… And steady on with the Freeman love too. It's making me a bit dizzy.

Enjoyed this article? Share it!