Among the choice panels at next week's San Diego Comic Con is a "first look" presentation focusing on Guillermo Del Toro's Pacific Rim. It's going to be quite the spectacle, I think. A Del Toro film about gargantuan monsters fighting giant mecha couldn't really be anything else. Here's hoping a widely released trailer is also imminent.
For now, let's enjoy this scan from the next issue of Entertainment Weekly. It shows the film's hero and heroine co-pilots, as played by Charlie Hunnam and Rinko Kikuchi. He's the washed-up type, she's the fledgling rookie. He's blonde, she's brunette. I think they're working a kind of PB and J idea here.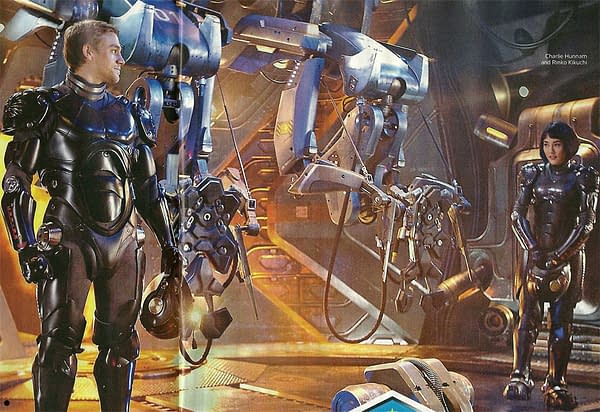 According to the plot info so far released, we can look forward to these two taking charge of an older, supposedly obsolete mech – or Jaeger, as they'd have it – to save the world from TOTAL MONSTER DESTRUCTION.
Thanks to Shock for the scan.
Enjoyed this article? Share it!