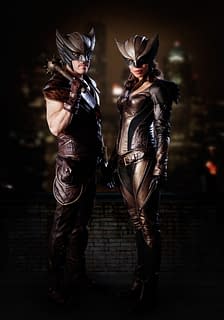 The CW has released a photo (via Variety) of Hawkman and Hawkgirl from the upcoming Legends of Tomorrow. Ciara Renée and Falk Hentschel play Kendra Saunders and Carter Hall, two souls fated to reincarnate every generation, fall in love, and battle evil with the powers of the Hawkgod.
Which all sounds great, but, boy, are Hawk costumes hard to pull off. The suits look good, but the biggest problem is the masks, I think. They're fantastic designs on the comics page, but once someone has to wear them, they can't help but be a little awkward. Overall, though, the costumes maintain the more stripped down look of Arrow and The Flash. I wonder if they'll look better in motion; I remember Flash's suit looking wonky in early stills, too.
According to Variety, the Hawks will "sprout wings" via their connection to the Hawkgod, so I imagine we'll only see them in flight. That's probably for the best as the wings on the Hawkman that appeared on Smallville were really distracting.
Legends of Tomorrow is currently set for a mid-season premiere on The CW.
Enjoyed this article? Share it!