Pixar Short Films 2 is coming. We know because Enrico Casarosa said so. Now we doubly know because here's the cover art for what appears to be the DVD and Blu-ray versions, though not to scale. Note the appearance of Woody in Hawaiian garb.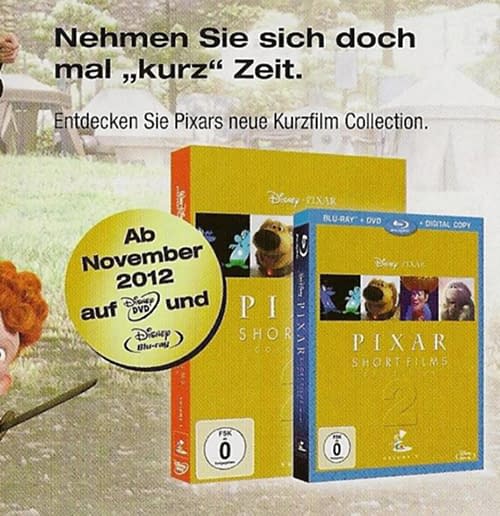 Note the November release date. I guess we'll see something similar outside of Germany.
That scan is of half of a flyer that also promotes the eventual DVD and Blu-ray release of Brave, but I'm going to focus on seeing that one on the big screen first. Don't want to get too carried away.
The big disappointment for me is that there's no 3D version of the compilation being displayed. Several of the films were produced in 3D and work very well in the format. Watching Day and Night in 2D is going to be something of a come down, in fact.
I guess we'll just have to wait for enough 3D shorts to be amassed that they'll get a compilation of their own. Or maybe Pixar will re-render all of the previous 2D shorts in 3D and give us a bumper package somewhere down the line.
This is your cue to tell me that I'm nuts and that 3D is going to die. I won't believe you. The numbers are actually on my side, despite all of the spin.
Thanks to Pixar Blog for the image.
Enjoyed this article? Share it!