While Raphael was conspicuously absent, his three homies in halfshells took to the streets of New York on Thursday. Also present on set were a bunch of figures in black, and I'll be blasted if these aren't members of the Foot Clan.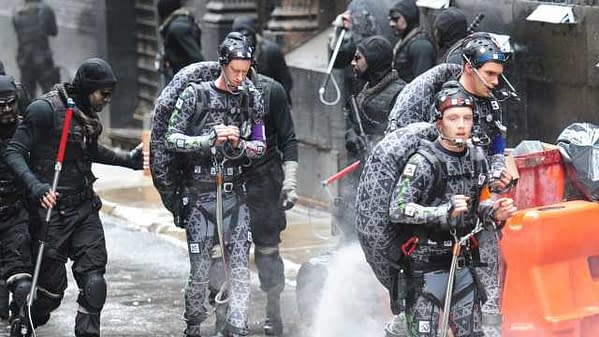 Are the mutants cuffed? Have they been turtlenapped? Are they depending on Raphael to come and rescue them? Pfft. I'm making it all up, but it doesn't seem too improbable.
The above image comes from Access Hollywood and it's easily the best shot I've seen from the film's set to date. Unfortunately, nobody seems to have caught the actors in action just yet. I'd love to see how heavy those backpacks do or don't seem as they dash about and pull of comical roundhouses, or whatever they'll be doing.
Anyhow, here's one song I'd quite like to hear on the soundtrack…
[youtube]http://www.youtube.com/watch?v=oqwntLBY9tA[/youtube]
That comes from the one-of-a-kind Miami Connection. If you haven't seen it, I think you might want to…
Enjoyed this article? Share it!