First Official "Ready Player One" Image Emerges
Escaping into the world of the internet is a very real coping mechanism, and Ready Player One is all about the dangers and bonuses of such things. Written originally by Ernie Cline (Fanboys, Armada) "Ready Player One" is set in the future, 2045 to be exact, and centers around a young man named Wade Watts, and his obsession with everything 80s.
Imagine if Steve Jobs created an all immersive VR world, and the populace at large begins using it for every day EVERYTHING. Commerce, school, even love, all take place in the OASIS, this world accessible only by specialty gloves and visors. Or, if you have lots and lots of money, a complete haptic suit that allows the rest of your body to feel what your digital avatar feels 'in world'.
If you haven't read the book, you really should, as Cline's tome is a love letter to every geeky kid obsessed with the glory days of 80s culture. The mentioned soundtrack in the book is amazing, there is even a spotify playlist from Cline fans can listen to while reading about Wade to get the full experience. It's got heart, adventure, and surprise around every page, and remains one of my personal favorite reads from the last several years (probably tied with Andy Weir's "The Martian").
Today, ahead of their all things San Diego Comic Con International issue, Entertainment Weekly released this first image from the upcoming film adaptation of "Ready Player One", being directed by none other than Mr. Steven Spielberg himself: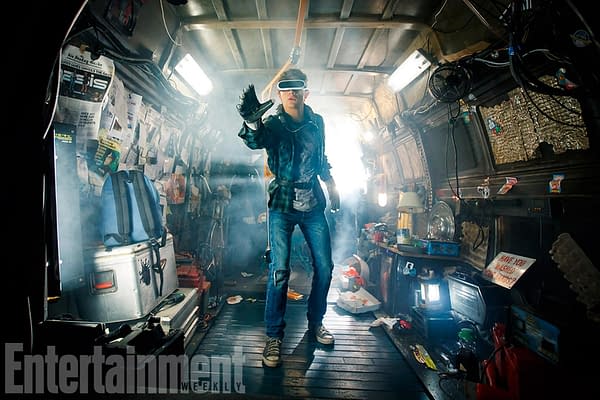 Here we have Tye Sheridan (X-Men: Apocalypse) as main character Wade Watts, using his haptic gloves and visor to access the OASIS and begin the quest that'll change his life, and the world around him. Oddly enough, the released image looks SUPER CLOSE to early artwork released for the book.
The trailer for the film is expected to drop during the Warner Brothers panel in Hall H at SDCC, we'll do our best to get it out to you guys when that happens.
Ready Player One is set to hit theaters on March 30th, 2018.