The URL Omnicorp.com has come to life, bringing us lots of titanium-plated, servo-motored fun. I ran a Who Is check on the site and it does lie with Sony, so we're set. This is a real, Robocop tie-in site, ready for Comic-Con.
Here's the "product line" viral video.
The film itself has not yet started production and already we get to see the new ED-209, bits and pieces of the new Robocop and, crucially, the XT-908 Aerial Drones.
I spoke to director José Padhila about the film a few months back, and he spoke about the drones then:
Wars in the future are going to be fought with drones. We won't send a plane with a pilot in, it will be drone. It's getting that way now and ten years from now that's how wars are going to be fought.

But what if a drone goes wrong – who is to blame then? Do you blame the drone?

How do you fight back against drones when you don't have drones?
There's also a little ticker video playing in the top right corner of the site. Here's that at full size. It has no audio, but it calls back to the heavy use of news footage in the first Robocop films.
Can we expect to see more coming out of Comic-Con? Probably not, but this is already an exciting surprise.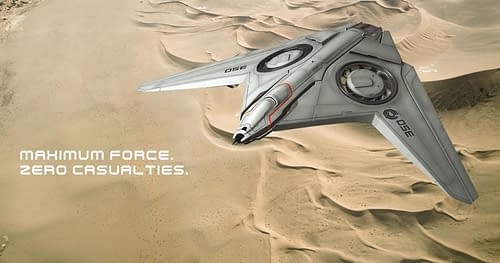 Enjoyed this article? Share it!