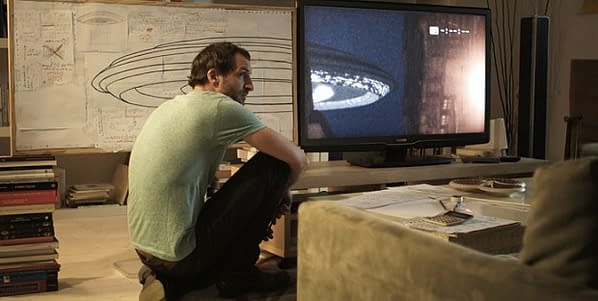 At last we have the first footage from Extraterrestrial, the sophomore feature of Nacho Vigalondo.
His debut film, Timecrimes, went straight into the Bleeding Cool Collector's ,and he's next collaborating with Mark Millar on the feature film version of Supercrooks.
If he isn't quite international fan bait yet, I'd say he will be soon.
Extraterrestrial, originally Extraterrestere, is an alien invasion picture but don't click play on this trailer expecting Battle Los Angeles or Skyline.
Though I'm pretty sure the full movie will have a personality all of its own.
UPDATE: The top video here is the English friendly one. It's now turned up and it's good stuff.
[vimeo]http://vimeo.com/28815167[/vimeo]
And here's the Spanish one from earlier. Just doesn't have the subs and the cards are in Spanish.
[youtube]http://www.youtube.com/watch?v=x2pFQk21rl4[/youtube]
Yeah, you probably shouldn't have expected to understand what people were saying either. Hopefully, a translation or, better still, subtitled version, will be along soon.
Okay, perhaps there was a tiny tinge of some of thestuff from the first act of Skyline, though it's more Signs.
Still no solution to the mystery of the tennis ball. This was a proper teaser, refusing to give too much away at all. Good!
The trailer premiered on El Cultural.
Enjoyed this article? Share it!