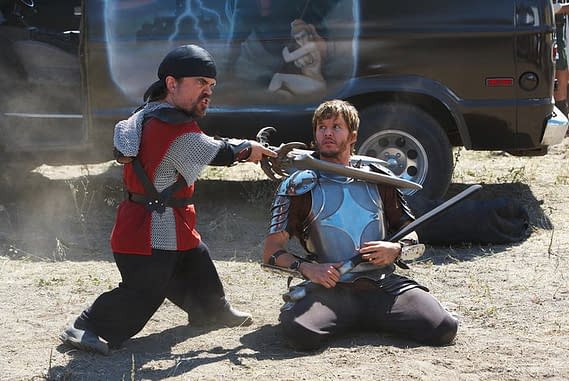 As premiered this afternoon at Comic-Con, here's the first trailer for Joe Lynch's long awaited second film, Knights of Badassdom. Beautiful cast – in many sense of the word. No wonder the San Diego horde went a bit gaga for them.
Technically, this is NSFW stuff. You can always find a new job anyway. It's not like you ever say anything nice about the one you have.
[youtube]http://www.youtube.com/watch?v=dnQ9Vp4fV4I[/youtube]
The trailer comes from the film's Facebook page. I'd suggest "liking" them in case they post the clip from the panel too. They probably won't… but just in case…
UPDATE: The HD version really shows of Sam McCurdy's cinematography. It didn't look this good at the panel.
Enjoyed this article? Share it!