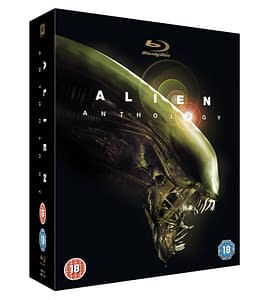 It's a testament to the overall quality of the Alien Anthology box set that it survives the monstrous disappointment of Alien 3 in just the way a heavyweight boxer survives a stubbed toe. Indeed, I can't imagine I'll ever watch this film again in either it's theatrical or extended cut and I might as well consign the disc to life as a coaster, but I'm still – spoiler alert! – going to give the Anthology the most glowing of recommendations when all is said and done.
Let's assume, though, that Alien 3 is everything its apologists would have us believe, a misunderstood film that bucks convention in pursuit of the lyrical and visionary. The question now becomes one of how the film is represented by this disc. This is where you'll find little argument from me.
The new rendition is particularly notable for its new sound mix. Even in the carefully nurtured and polished Quadrilogy iteration, much of the film's sound was murky and messy, most particularly in the workprint version which hadn't undergone complete post production by director David Fincher and team. The only fix would be to get members of the cast in to re-record some of their dialogue, and that's what has happened here. It's a serious commitment but not too surprising when you remember the lengths Anthology's producer Charles de Lauzirika went to with the Blade Runner Final Cut.
The image is actually pretty strong, though not to the same format-leading, benchmark levels as with Alien and Aliens. You'll see damage in the grain, and the contrast range sometimes appears somewhat more coarsely spaced, with less gradation. This film is our first hint that not everything in the Anthology set has been rebuilt from the ground up with the best, newest materials.
But is this the best-looking, best-sounding version of the film to date? Of course it is. By a length.
Next: why Alien Resurrection is Anthology's secret weapon. And then we'll finally get onto the special features, and I'll geek out like a big, happy Hulk made of mint-in-the-box action figures.
In the UK, Alien Anthology is out on Blu-ray 25th October. US readers will have to wait until the 26th.
Incidentally, Days Four and Five will be appearing later today. I reckoned without the weekend. Stay tuned.
Enjoyed this article? Share it!