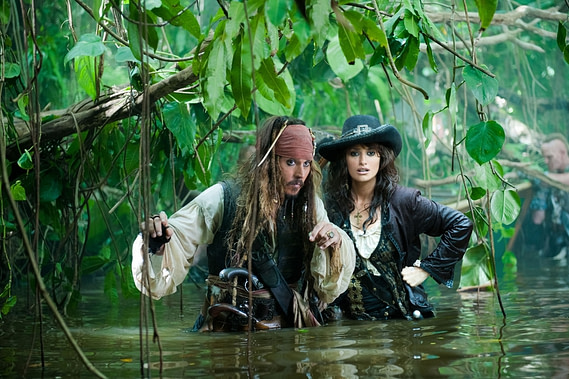 Pirates of the Caribbean: On Stranger Tides gets my vote for the best film in the series so far. Here are the Five Things that might convince you I've got a case.
1. Sparrow at the Centre
When the series started, Captain Jack Sparrow was set up as the funny, goofball supporting character, not too unlike the wacky nextdoor neighbour in an otherwise lackluster sitcom. Of course, he went on to steal the show from under the perky little noses of the unengaging leads.
Basically, he's Doreen in Birds of a Feather. Similar fashion sense too.
This time, Jack Sparrow is at the absolute heart of the film throughout. For the first time, the most interesting character in a Pirates of the Caribbean film is the protagonist. That's definitely a step up.
Some have argued that Depp is now just "phoning in" his performance, but I'd contend that it's more likely that the novelty has faded, and that any lowering of excitement is in the eye of the beholder. For first time viewers at the very least, I can't imagine why this rendition of Sparrow would seem any less compelling than the others. I certainly enjoyed Depp's star turn as much as ever. Sure, I prefer his acting in Ed Wood or Fear and Loathing, or even Rango, but Sparrow's a great creation too.
There's a bit at the end in which Jack Sparrow makes a mix up and, the way Depp plays it, there's real ambiguity as to how deliberate the mistake was. Thinking about this, it seems to be the most interesting character moment in the entire history of Sparrow. Just a little moment, and deliberately vague so therefore hard to hold on to, but it poses by far and away the most intriguing question about the character I've pondered yet. Who is this guy, really? What does he really want?
2. Penelope Cruz
The chief foil for Sparrow in the first film was Geoffrey Rush's Barbossa, who is back again this time, and Rush does just fine with not enough to do. There's also Ian McShane as Blackbeard, and while he doesn't get many memorable bits of business and doesn't seem very clearly defined, McShane is always watchable.
But the best counter-point to Sparrow so far, in all four films, is Penelope Cruz as Angelica.
Early reports had Cruz tagged as playing "the daughter of Sparrow's nemesis" and while that's sort of true, it's not fair to just define Angelica in terms of relationships to the male characters. There might be a lot of depth to her character, but it really isn't that simple – not on screen at least, no matter how slight the scripting of the role might be.
Cruz has got a great, light touch with comedy and she pulls off a few pleasantly Screwball moments in this film, particularly towards the end. There's not enough quality banter with Sparrow and Angelica, but the best little bits are breezy and fun, while they last.
3. It's quite cleanly plotted
The previous Pirates films have been knotty affairs, particularly parts two and three. I'd say that this chapter has probably the cleanest and least fuzzy plotting of the series so far, with the first installment running close.
Some sequences are very predictable, but this predictability can be fun. For example, there's an early scene in a court room and you'll either guess who the surprise Judge is going to be, or you won't. If not, it's a surprise; it so, the anticipation is actually quite amusing in itself. I think the scene was designed to use predictability to its advantage, and there's a few moments like this, and that makes sense, to me, especially in a fourquel.
4. It's nicely shot
Dariusz Wolski's cinematography has never been better. The 3D is clear and comfortable too – while, sadly, unadventurous and badly planned to the extent that some of the edits are, as a result of shifting stereographic parameters, cripplingly slow (that old thing about 3D meaning you have to cut slowly is only true if you don't align your 3D in a way that's suited to fast cuts). And I can't say that the action sequences are better staged than before as these new ones are pretty much on a level with those in the previous films, but at least they're more nicely lit and graded.  Some thought has gone into the film's palette of colour schemes, and while none of it will exactly bash you over the head, I guess that's at least part of the point.
I'd also like to say that some of the compositions are very nicely done, playing as balanced and unobtrusive despite being rather cluttered. It's just… polished. The special FX, for the most part, only add to this sheen of overall professionalism.
5. The other films just weren't much good
I didn't really like the previous Pirates films, truth be told. Maybe some blame falls on Keira Knightley and Orlando Bloom, but more likely it was their characters. And while it wouldn't ever have been appropriate for On Stranger Tides to be riddled with self doubt, Verbinski's trilogy was certainly a whole lot smugger.
And while it's true that I'm not falling over myself with enthusiasm for this film, I did enjoy it, and I enjoyed enough of it to a sufficient extent that I'd actually welcome a fifth installment. Well, a fifth installment that continues to grow away from the first three films, keeps Sparrow in the centre, brings Angelica back, has nice, clean cinematography, experiments with 3D and maybe, in my dreams, swaps director again for somebody who really loves a bit of Screwball comedy and has a way with witty, imaginative action.
No idea who that might be.
Pirates of the Caribbean: On Stranger Tides was a stride in the right direction. Here's hoping they go all the way next time.