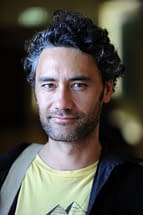 According to The Wrap, Flight of the Conchords director Taika Waititi is in negotiations with Marvel Studios to direct Thor: Ragnarok. He will likely direct the picture, but Marvel reps declined to comment.
The film will presumably resolve Thor: The Dark World's Loki-sized cliffhanger and likely reveal more about the Infinity stones. Chris Hemsworth, Tom Hiddleston and Jamie Alexander are all slated to return. No doubt Natalie Portman and Stellan Skarsgaard will be back to science up some scenes. I just hope Kat Dennings will be back as well.
The Thor movies have not been my favorites of the Marvel Cinematic Universe, though I like Hemsworth as Thor a great deal. The scenes of Thor adjusting to Earth are always fun, but there's always something distancing about both the threats and Asgard itself. The Dark World never landed with me in particular because of this distance. It'll be interesting to see how Waititi, should he actually get the job, handles the various realms and narrative hurdles of the series.
Enjoyed this article? Share it!