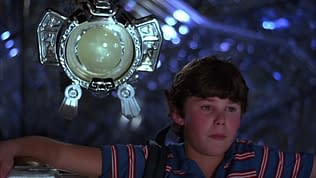 According to the CBC (via Death and Taxes), Flight of the Navigator star Joey Cramer has been arrested for bank robbery.
Children of the 80s may remember Cramer as the kid who comes into possession of an alien space craft in the 1986 Disney film. Following a timewarp that leaves the character missing for eight years, he and the craft's onboard AI (voiced by Paul Reubens) attempt to evade capture by the US government and get the kid back home.
The actor also appeared in a number of other films, but never to any success. Flight of the Navigator managed a cult status via repeated airings on The Disney Channel in the 20th Century.
According to the CBC report, Cramer — now known as Deleriyes Joe Cramer — attempted to rob a bank in Sechelt, British Columbia. Though wearing a disguise consisting of "a wig of shoulder-length hair, a bandana and sunglasses," the Royal Canadian Mounted Police recognized him from the bank's surveillance video because "they had recent dealings with him."
A Showbiz Geek "Where Are They Now?" post linked by Death and Taxes claims the former actor has faced charges for careless use of a firearm and other offenses. In 2011, Cramer was wanted on allegations of check fraud.
Enjoyed this article? Share it!