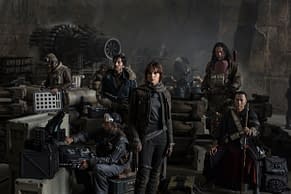 According to Making Star Wars, Rogue One: A Star Wars Story actor Forest Whitaker's character will be "a veteran of some battles" previous to the events of the film.
The character is described as missing a leg and using a cane, but it is unclear if he lost his limb during the Clone Wars or in a previous dust-up with the Empire. It is also suggested the character may be a bounty hunter-type, but affiliated with the Rebel squadron tasked with retrieving the plans to the Empire's ultimate weapon.
The film stars Felicity Jones, Donnie Yen and Diego Luna as part of that Rebel team with Mads Mikkelsen in undisclosed role. Directed by Godzilla's Gareth Edwards, the film is scheduled for release on December 16th.
Enjoyed this article? Share it!