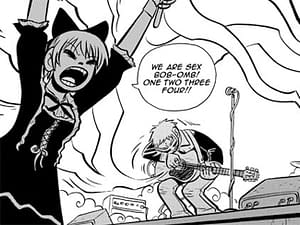 My single favourite thing about Edgar Wright's Scott Pilgrim vs. The World is the song Ramona, as written and performed by Beck. It's just the kind of beautiful, melancholic thing that I fall for easily – and I suppose Scott would have to say the same thing about its namesake.
All of the Sex Bob-omb songs in the film were composed by Beck, reportedly working quickly, almost "in character" as this lo-fi garage band from Scott's Toronto. I always assumed there would have been out takes, alternative versions and unused songs out there somewhere – and somewhere, as it turns out, is the internet. Yep. Again.
You can hear four tracks at Some Kind of Awesome: Indefatigable by Sex Bob-omb, No Fun, Disgusting Rainbow and Gasoline Eyes by Beck. No Fun even comes complete with a faux KRTS intro.
I see from YouTube that a live version of Indefatigable has been knocking around for a good while, and there is a version of it in the film, it just didn't make it onto the soundtrack album.
Right, there you go – that's all the nudging I need to pop the film back into the Blu-ray player for another go round. It doesn't take much, really…
Enjoyed this article? Share it!