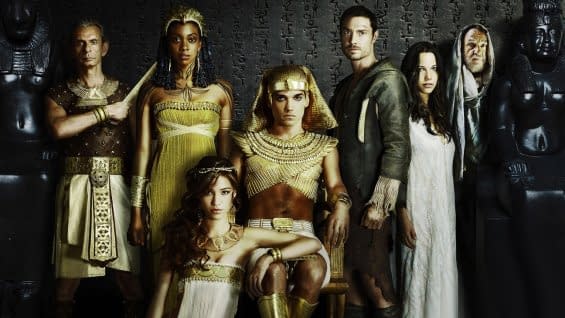 Ouch. Even though Fox gave a 13-episode series order to ancient Egypt set adventure series Hieroglyph during pilot season this year, it has now pulled the plug and canceled the show, before any episodes had even aired (it was set to debut during midseason).
Only the pilot had been shot, starring Max Brown, Reece Ritchie, Condola Rashad and John Rhys-Davies, but scripts for several more episodes had been written. According to EW, Fox execs felt the series "wasn't creatively coming together the way executives had hoped."
Kevin Reilly, who gave the series the greenlight, recently left his post as Fox's programming chief. So I guess the new leadership (not yet announced) doesn't agree with some of his choices.
Had it gone to air, Hiergolyph would have followed "a notorious thief who is plucked from prison to serve the Pharoah, forcing him to navigate palace intrigue, seductive concubines, criminal underbellies and divine sorcerers, as he races to stop the downfall of one of history's greatest civilizations."
Enjoyed this article? Share it!