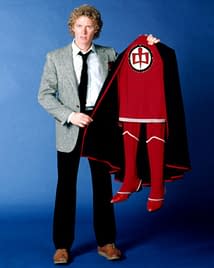 According to Deadline, Fox has committed to a pilot for the upcoming Greatest American Hero remake. The project, in the works for some time, is shepherded by Dope writer/director Rick Famuyiwa and directing duo Phil Lord & Chris Miller, already familiar with the work of Hero creator Stephen J. Cannell from their two films based on his 21 Jumpstreet television show. Cannell's daughter, television director Tawnia McKiernan, is also involved.
The original 1981 series featured a high school teacher who becomes a superhero after an encounter with aliens. Gifted with a suit that gives him incredible powers, he bumbles at learning to use it after losing the instruction manual. Deadline reports the pilot, written and directed by Famuyiwa, will follow a similar prompt as a man content to be average "wakes up with a superpower suit he never asked for and has to deal with the complications it brings his life."
Earlier attempts to revive the series included Cannell's The Greatest American Heroine in 1986 and a first attempt by Lord and Miller in the summer of 2014. Cannell also discussed bringing the concept to feature films before his death in 2010.
Enjoyed this article? Share it!