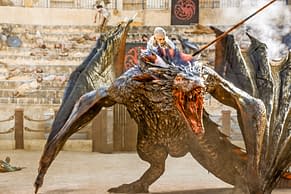 While it is still unclear how long Game of Thrones' final years will run, one voice appears clear on next year being shorter.
Director Jack Bender — who helmed the most recent two episodes — told Vanity Fair (via TV Guide) that he is unsure if he will return to direct any season seven episodes because "they're only doing seven [episodes], and they've got their regulars who have done it forever."
As previously reported, series masterminds David Benioff and D.B. Weiss were contemplating a final thirteen episode production run following season six. The idea was to split the final thirteen episodes across two seasons. But when HBO confirmed Game of Thrones would be returning for another two years, the exact episode count was not confirmed.
Bender is probably correct that season seven will be shorter. The show is written and produced at breakneck speed, so next year has likely been plotted already.  It is possible, however, that he is just echoing the earlier reports.
In the meantime, Game of Thrones' current season will continue to run for another four weeks before that big gulf of speculation begins anew.
Enjoyed this article? Share it!