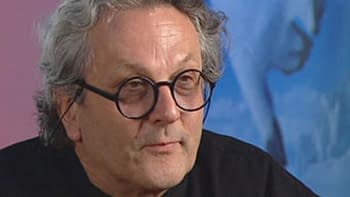 According to Page Six (via The Wrap), Mad Max: Fury Road director George Miller says he is done with road warrior and his desert wasteland.
"I've shot in Australia in a field of wild flowers and flat red earth when it rained heavily forever," he reportedly said. "We had to wait 18 months and every return to the US was 27 hours. Those Mad Maxes take forever. I won't do those anymore."
The production of Fury Road was fraught with delays, over a decade of development and many starts and stops along the way; including an initial attempt to shoot the picture in 2003. In 2010, the production was forced to move from Australia to Namibia after an record rainfall materialized in the Australian locations, delaying the shoot another eighteen months.
Because of Page Six's quick-cut style, the context of his comments are unclear. In previous interviews, Miller has entertained the notion of another installment, but has been careful to mention a second screenplay developed alongside Fury Road — unofficially known as The Wasteland — is not in fact the next chapter of the Mad Max legend. He has also said he would like to do a smaller project next.
Enjoyed this article? Share it!