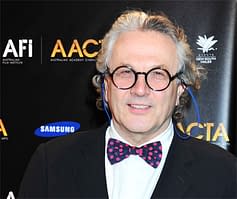 While responding to the news of his best director nomination and the film's nod for best picture — among ten other nominations — Mad Max: Fury Road's George Miller clarified that he would be interested in making another film in the post-apocalyptic series. He just wants to wait a while before pursuing the Road Warrior again.
As reported by Page Six earlier this week, the director said he was done with Mad Max, but Miller told The Hollywood Reporter that his comments were a "jumbled" in the final article. "I was saying I didn't want to do Mad Max right away," he explained. "I have a few other stories to tell. I wanted to do something small and fast." Besides the Mad Max films, Miller directed Happy Feet 2, Babe: Pig in the City and Lorenzo's Oil among other features. The long journey to Fury Road's Oscar nominations would give any filmmaker pause about jumping back into the parched world of Max Rockatansky without a switch of gears.
Miller also praised his Fury Road crew, saying "I'm glad they're being recognized in this way."
Enjoyed this article? Share it!