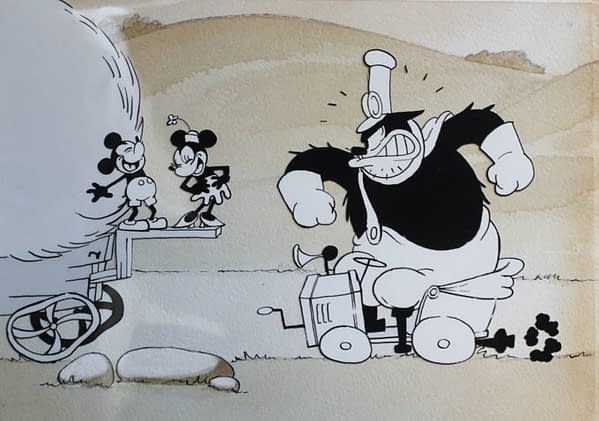 When Frozen opens later this year, it's going to be accompanied by a previously unseen Mickey Mouse short called Get A Horse!
"Previously unseen." That's the official line. The toon features Walt Disney's voice as Mickey and there's a lot of classic, early-style hand drawn animation.
But there's also a big surprise, now well-spoiled across the web and, I have to admit, in previous Bleeding Cool stories. And – to a large degree – by the headline above.
But none of those spoilers showed us the big idea in action. Seeing it actually happening is incredibly powerful.
If you click over to YouTube you'll find yourself in the middle of an expansive report from the D23 expo right where a clip from Get A Horse! is looping.
The excerpt is quite, quite remarkable, even for all of the barriers between us, looking in, and the image itself – the camera wobble, lack of focus, exposure issues with the screen being filmed, extraneous space in the frame.
When the film plays before Frozen the audience will be reminded to wear their 3D glasses. It's easy to get an idea of what the effect might be from the clip I've linked, but actually seeing it in action will be something else.
I can't wait.
Get A Horse! was directed by Lauren MacMullan with Eric Goldberg supervising the hand drawn animation and Adam Green doing the same for the CG work. Seems like an incredible collaboration.

Frozen opens on November 27th in the US and December 7th in the UK.
Enjoyed this article? Share it!