Playing before Disney's Frozen when it opens in cinemas later this year – well, for most of the world, later this year – will be the short Mickey Mouse cartoon Get A Horse. Officially, Disney are saying that this is a long-lost Mickey classic, dusted down and restored for a modern audience.
But, at the same time, they've revealed an image that proves its nothing of the sort.
As folk who saw the film at Annecy or D23 confirmed, the film is brand new, simply masquerading as a 30's toon – to a point. And at that point, Mickey bursts out of the image and transforms from rubberbanded black and white to full colour, 3D CG.
Here's an image of colour Mickey outside of his 2D world.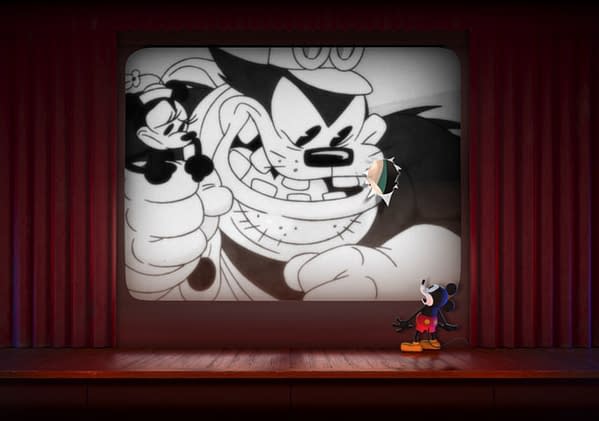 That comes from a fine article at Animation Scoop in which Get A Horse's director Lauren McMullen explains something of how they worked up the movie and its soundtrack in particular.
Amazingly, they managed to find recordings of Walt Disney that, even if it occasionally required some precision editing, gave Mickey Mouse his master's voice for every line he speaks.
The director even wanted the exact squeak Mickey makes in Steamboat Willie. Then a friend suggested they make Mickey all Walt to put him in the credits, and so they pieced together the sound of Walt from various shorts and built the story around it (they also utilized Billy Bletcher as Pete and some of Marcellite Garner as Minnie).

However, when Mickey enters the modern world and utters, "Red!," they had to assemble syllables from different words, which took two weeks to get right along with adjusting the animation on either side so it looked like a surprise.
Believe it or not, there's an even bigger spoiler in the full article than in the image above so you may wish to bookmark the story now and read it after you've seen the film.
I can't wait to see it myself, that's for sure.
Here's a bonus image from the purely 2D section of the film.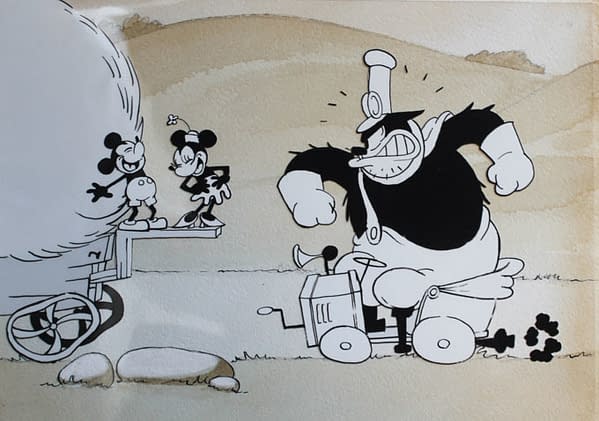 Enjoyed this article? Share it!