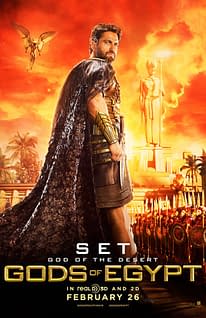 Whether or not you think the upcoming Gods of Egypt starring 300's Gerard Butler, Game of Thrones' Nikolaj Coster-Waldau and The Blue Lagoon: The Awakening's Brenton Thwaites is a little white-washed, director Alex Proyas and studio Lionsgate Entertainment have heard the complaints about the film's lack of Egyptian, African or Mediterranean faces.
"The process of casting a movie has many complicated variables, but it is clear that our casting choices should have been more diverse," he said in a statement published by Forbes. "I sincerely apologize to those who are offended by the decisions we made."
Lionsgate went further with its apology, stating, "We recognize that it is our responsibility to help ensure that casting decisions reflect the diversity and culture of the time periods portrayed. In this instance we failed to live up to our own standards of sensitivity and diversity, for which we sincerely apologize."
The company added, "Lionsgate is deeply committed to making films that reflect the diversity of our audiences. We have, can and will continue to do better.​​"
Some films in the recent past — Ridley Scott's Exodus: Gods and Kings among them — have been called out for casting predominately white actors in roles that, at least geographically, suggest a different set of facial features. In each case, some measure of explanation has been offered, but Lionsgate and Proyas are being recognized as the first entities to respond with a straight apology.
It is unclear if this will help the film's chances when it's released on February 26th, 2016.
Enjoyed this article? Share it!