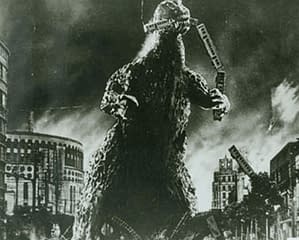 It's back to the drawing board for Tokyo's greatest thunder lizard as the upcoming Godzilla reboot gets a new director, Monsters' Gareth Edwards, and a new writer, as yet still unrevealed.
It sounds like a bit of a no-brainer to me. In choosing Edwards, you get the Monsters fans to expect something smarter and more interesting than a bog-standard reboot and you get the Monsters critics to expect the generic requirements of a Godzilla movie to mean there's more action and more destruction. And the masses of people who will never have heard of Edwards or Monsters will still roll-up because its Godzilla.
Best of all, I think Edwards is likely to make a tremendous film. Well, assuming he's not shackled to a truly dreadful screenwriter.
UPDATE: Variety are expecting Edwards to work on the script himself. I'm still expecting he'll get a co-writer.
The Hollywood Reporter say that Edwards is close to a deal; it may already have closed.
The campaign to get Monsters' Scoot McNairy and Whitney Able roles in the film starts here.
Enjoyed this article? Share it!