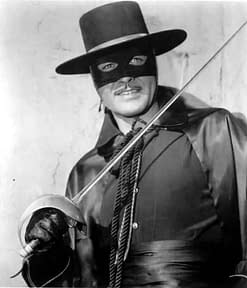 According to The Wrap, Gravity co-writer and Desierto director Jonás Cuarón will write and direct Z. The project is described as a "new take" on pulp hero Zorro. Other details are unknown , including whether or not the character will stay in his original time period or join the ranks of modernized heroes. UPDATE: According to The Hollywood Reporter, the project is a reworking of Zorro Reborn, a post-apocalyptic take on the character.
Zorro first appeared in 1919's The Curse of Capistrano by pulp writer Johnston McCulley as a nobleman living in the Mexican controlled pueblo of Los Angeles circa the 1830s. The fopish Don Diego de la Vega would transform into a bringer of justice known as Zorro when corrupt politicians and other officials threatened peaceful commoners.
Within a year of the story's publication, Douglas Fairbanks and Mary Pickford brought Zorro to the screen as the first production from their newly formed United Artists studio. The character has had a strong association with the screen ever since, featuring in more films, an early Disney-produced television series and the two Antonio Banderas films, The Mask of Zorro and The Legend of Zorro, directed by Martin Campbell.
The new film will be shot in the Dominican Republic with Lantica Media and Sobini Films producing.
Enjoyed this article? Share it!