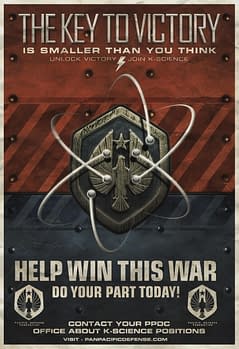 Even while my recent chat with Guillermo Del Toro focused on some of the finer details of Pacific Rim, we did also find a minute or two to talk about a possible sequel.
As Del Toro explained to me, some of his key ideas for a possible follow-up are rooted in one particular, crucial plot-point from the first film. As a result, you might want to skip the next quote and my immediate response until you've actually seen the movie. There's a mid-sized spoiler here.
There was a line that I deleted from the movie that will come back if I do a second movie. Newt explained that the Kaiju are not carbon based organisms like humans, they are silicon based. The only part I left of his explanation is that they have a hive mentality, meaning that if you "drift" with a Kaiju brain, you are drifting with every Kaiju alive.

Depending on the duration of the drift the information might be complete or incomplete, but the Kaiju know everything the human drifts with them knows. That's as much as I can tell you without spoiling the sequel. Well, that's providing there is a sequel – if there isn't one, I promise, I'll spill the beans.
Silicon based? They know everything New knows? Well, there's a tease for Mechakaiju, surely? Okay, maybe not surely. Probably. Possibly.
I'm talking myself out of it – but it's a great idea.
Also in respect of deleted scenes, we talked a little about what the eventual DVD or Blu-ray release of the film will contain.
This is my director's cut. There will not be an extended cut right now, we're not planning on it, but there will be deleted scenes and they were deleted for a reason.

We're going to record the commentary in the next few weeks. I prepare my commentaries very carefully. As you'll know if you have listened to any of the commentaries on my other DVDs and Blu-rays, I run a very open ship. I try to tell people what was difficult, what went wrong, what they should watch out for. I think that for a new generation of filmmakers, commentaries can be film school.

The video [documentary] content will be quite complete, though sadly the home video, DVD and Blu-ray market is shrinking so we can't be as extravagant as we were with other discs in the past, but my philosophy of this is very simple: if you buy one of my movies, a toy, or a collectable from one of my movies, I try to give people a piece of merchandising or memorabilia that I would be happy to pay that price for.

If you buy a Sideshow maquette or you buy a DVD or a Blu-ray, I can guarantee you I put many personal hours of effort into it. I didn't delegate it, I supervised every piece of merchandising that is significant. I don't supervise T-shirts or bandanas or cup holders, but everything that is one way significant, I supervise myself.
Cross that Pacific Rim bandana off your shopping list and save those pennies for the Blu-ray instead. Better still, put them towards going to see the film in the cinema this weekend because, really, we need more of this and only boffo box office will make it happen.
Previously: Del Toro and I dig into the heart of the film.
Enjoyed this article? Share it!