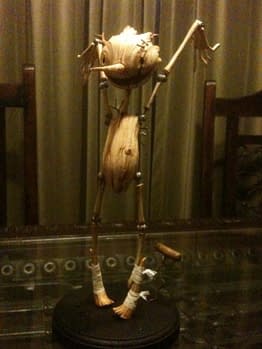 The foundation for Guillermo Del Toro and The Jim Henson Co.'s planned stop-motion film of Pinocchio was an illustrated retelling of the story by Gris Grimly.
Del Toro and Grimly were amongst the screenwriters, with Matthew Robins, a regular contributor to Del Toro films.
Some concept art and a photo of an early maquette had crept online and, last I knew, Del Toro was planning to record the voices this summer. In fact, I believe he was thinking of filming his actors, something like the way Gore Verbinski had worked on Rango. Tom Waits and Daniel Radcliffe were in the frame. Waits was intended to play Gepetto – imagine that.
But it seems it isn't going to happen now.
Grimly posted a straight forward update on his Twitter account:
Short to the point update on Pinocchio for those inquiring: It appears that this is not the right time for such a superior-adventurous flick

— Gris Grimly (@GrisGrimly) January 30, 2013
Not pleasing. I love Disney's Pinocchio, I love Luigi Comencini's Pinocchio and I was ready for Del Toro and Grimly to pull of a hat trick – three good adaptations of one fine book. Grimly says that the box office of Frankenweenie was a factor.
@thinkbaker There are people like us out there. But they look at numbers. Frankenweenie was a box office failure to them.

— Gris Grimly (@GrisGrimly) January 30, 2013
Because nothing says "Kids don't want to see films about wooden boys who come to life and get in deep with the wrong sorts" like saying "Black and white films about resurrected dogs are a hard sell."
There's better news for Grimly fans just a little earlier in his twitter feed.
I've been working with a studio, adapting Little Jordan Ray's Muddy Spud into a movie. Off to bounce ideas back and forth with them.

— Gris Grimly (@GrisGrimly) January 29, 2013
Little Jordan Ray's Muddy Spud is another of Grimly's books. This one I haven't read but… click!. I'll be reading it soon enough. It sounds a tiny, tiny bit Alice in Wonderland-y…
…which is to say there's an hare, a knight and an oyster in it.
I doubt this one will be stop motion, though it might be. I kind of hope it is. I kind of hope anything is. At all. I don't think there's a single stop-motion feature with any sort of budget behind it right now, is there?
UPDATE: Grimly has told us that, thankfully, Pinocchio is still kicking.
Enjoyed this article? Share it!