Anyone looking forward to Guy Ritchie's upcoming live-action adaptation of Disney's Aladdin may want to pick up the next issue of Entertainment Weekly. We say this because the cover story just happens to be about a certain street rat, a feisty princess, and an ageless magical trickster.
We're talking of course about the cast of Aladdin. The title character is played in this version by Mena Massoud. On the EW cover, he's joined by Naomi Scott as Princess Jasmine, and Will Smith as Genie.

There were also two other images in the issue, featuring Jasmine and Aladdin walking through the marketplace of Agrabah:
And, a look at Smith as Genie, looking like he's explaining his three rules ( Can't kill anyone, can't make people fall in love and can't bring anyone back from the dead):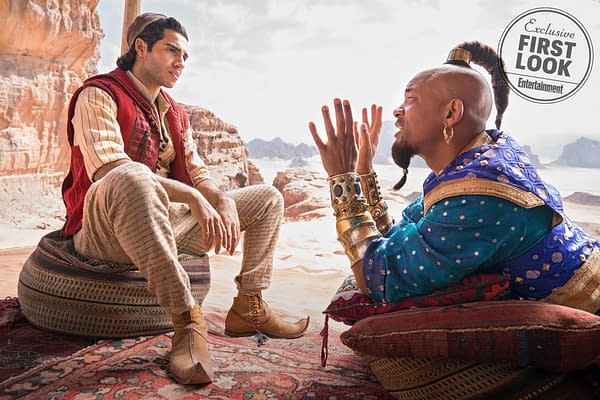 Earlier this year, we were treated to a first teaser trailer for the film, which was pretty impressive in its recreation of the original trailer for the 1992 cartoon.
We're actually…curious, about how Ritchie's filmmaking style will lend to this classic story.
Aladdin is currently sitting on a release date of May 24th 2019.
Enjoyed this article? Share it!