Did we REALLY need another Halloween film in the franchise? This is a tough question, which really is up to the viewer to answer. The original John Carpenter Halloween is unmatched, but 2018's true TRIBUTE ain't no slouch.
This will be as spoiler-free as I can make it, because there are some good twisty bits within the film that you're going to want to enjoy fresh and without a critic telling you what it means/how you should take it.
Blumhouse was TOTALLY the right company for this flick, with director David Gordon Green at the helm.
[….even though Jason Blum has kinda super-disappointed us with his comments this week about female horror directors. For a genre that has always celebrated women as focal points and just-as-strong-as-men, Blum's throw away interview answer about lack of female directors was bs, pure and simple. Thankfully he's sort of-kind of apologized, and did address the topic during the Los Angeles premiere of the film, so we'll give him half credit. But enough about him, more about the film with very strong women in it.]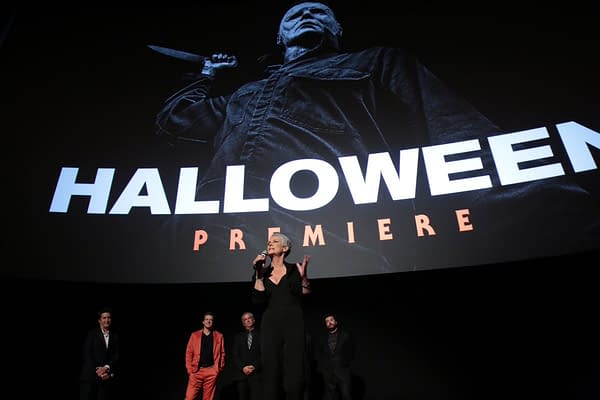 Obviously, Michael Myers is back, and coming after Laurie Strode (and her family). Somehow, everything AGAIN coincides with Halloween night, and a bloodbath ensues.
There are some pretty obvious nods to the original film, our personal favorite being a single take sequence that echos one of Carpenter's iconic scenes, which you can hear all about via the commentary track on the most recent release of the original film in 4K (well worth picking up[easyazon_link identifier="B07FSRBMTJ" locale="US" tag="bleedingcoo07-20"]Halloween 4K [Blu-ray][/easyazon_link]). You'll know it when you see it, it feels like a direct-from-storyboard scene, and it works just as well as it did in 1978.
What you really want to know is how the story fits into the continuity, right? Well, as previously reported (so NOT a spoiler) this particular entry completely ignores every chapter after the original 1978 film. Seriously. It even does away with the concept of Michael Myers being Laurie Strode's bother, taking a pot-shot at the other flicks in character dialog. Does it matter, really? No, not with this plot.
As Jamie Lee Curtis continues to say on the press tour for the film, this Halloween is about trauma; namely the process of dealing with and overcoming severe trauma.
.@jamieleecurtis has been 💯when talking about #HalloweenMovie being more than just another scary movie. pic.twitter.com/56xhF2zR0B

— Fandango (@Fandango) October 15, 2018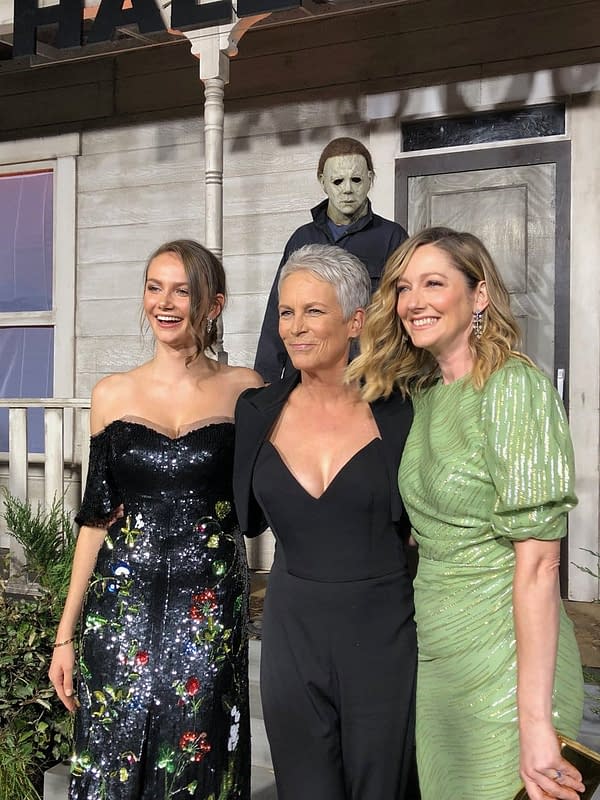 The Strode women (Curtis as Laurie, Judy Greer as her estranged daughter Kate, and Andi Matichak as third generation Allyson) are the true strength of triumph here; each are broken in their own way (mentally, mostly) but together maintain capability and prowess that takes some tone from Linda Hamilton ala Terminator 2, complete with assault rifles and tank tops. It's incredible to recall Curtis' age, because she holds her own in a film with the physical representation of evil better than pretty much ALL the men featured in this film.
Greer has a pretty spectacular moment that resulted in cheers and delighted laughs from the audience, again, not wanting to spoil it. Matichak dives into the beginnings of a mental break; the balance between how her grandmother deals with her past and how her mother pretends it was all make believe. SCORE: 4.5 out of 5, viewed in standard non 3D, would see again, but with a controlled audience environment, possibly an Alamo Drafthouse.
THE GOOD:
As mentioned, the women. The nods to the original will delight true fans of the franchise, and no doubt there are other tips-of-the-hat yet to be discovered by audiences. Our Strode women are capable, ruthless, and out to protect their family without being rescued by a man. Refreshing really, and true to form for Laurie.
THE BAD:
Things do take a little while to get going in the first probably 20-30 minutes, not *really* dragging, but not really zinging by either. The outright scare element isn't really there [at least wasn't for me, personally]. Although I could also say this may have been affected by my neighbors during the screening WHO WOULD NOT STOP TALKING. Please, for the love of all things cinema, DON'T BE THAT GUY. And, if you are THAT GUY, do NOT start arguing. You're ruining the experience for some of us, so just stay home if you can't handle yourself for a two-hour block.
Halloween is set to stride into theaters on October 19th, 2018.
Enjoyed this article? Share it!