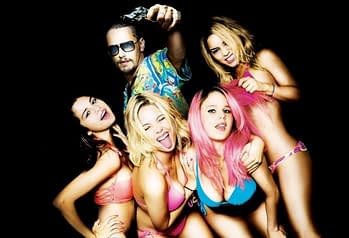 Rebecca Lewis writes for Bleeding Cool.
Harmony Korine's Spring Breakers is a hedonistic and violent look at today's version of The American Dream.
It features Disney starlets Selena Gomez and Vanessa Hudgens, ABC Family actress Ashley Benson and Korine's wife, Rachel Korine, as bored college students whose spring break vacation goes wrong after they're caught robbing a restaurant. James Franco co-stars as a drug dealer called Alien, apparently inspired by Britney Spears' ex-husband, Keven Federline. He bails them out – but naturally wants them to do him a favour in return.
It's one of only a few 2013 films for which I'm actually counting down the days until its DVD release.
So this tweet from Chris Lee, "Staff entertainment writer for The Los Angeles Times," has me rather intrigued.
Harmony Korine told me he's "remixing" 'Spring Breakers' for DVD. "The whole film has been sizzurped. It's the 1st chopped & screwed movie"

— Chris Lee (@__ChrisLee) June 12, 2013
If you're not familiar with that terminology, sizzurp is "the purple drank," a concoction made from a cough syrup with Promethazine with a Codeine, fruit flavoured soda and Jolly Ranchers.
A quick Google search tells me the drink is responsible for feeling of lethargy, drowsiness and motor skill impairment, with the Codeine also causing euphoria. That's a catalogue of almost everything I felt when watching the theatrical version so I'm definitely curious to see how Korine could make the movie even more "sizzurped."
The DVD is set for release in the US on July 9 in the US, and in the UK a month later on August 12. I'm hoping that as well as Korine's sizzurped version, the disc will include the original cut.
UPDATE: Chris Lee's full LA Times story is now available and there's more information on Korine's remix.
The upcoming release of the Spring Breakers DVD won't include the new sizzurped version. Instead, Korine tells the paper that
There'll be a whole alternate film at some point … Maybe on the DVD, maybe on iTunes… I had this idea… with music remixes sometimes, when certain producers take a song and chop them up and deconstruct them – why not try that with a feature film? Using all different footage, making the same film all over again.
We'll let you know if and when this version of the film ever sees the light of day.
Enjoyed this article? Share it!