Harvey Weinstein Will Direct Warsaw Uprising Picture Mila 18 "Sooner Rather Than Later"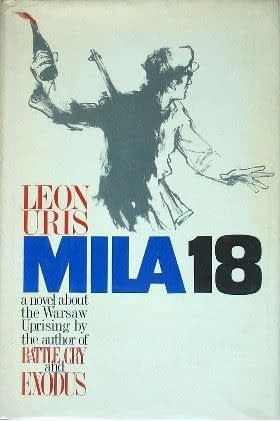 Harvey Scissorhands Weinstein is probably one of the most (in)famous producers in Hollywood but he also has aspirations to be a director.
He does actually already have two directing credits to his name, Playing For Keeps and The Gnomes' Great Adventure, but he doesn't seem to mention these two 1980s films too often. A directorial project that he's been talking about for some time – I remember first hearing about it over a decade ago – is an adaptation of the Leon Uris novel Mila 18.
The book is set in German occupied Warsaw during World War II and focuses on a journalist's point of view of the Warsaw Uprising.
Back in 2001 Harvey Scissorhands Weinstein was invited by The New York Times to watch a film with them for a series entitled 'Watching Movies With…' and he chose the film Exodus (also based on a book by Leon Uris) and he took the opportunity to talk about his desire to make a film of Mila 18, which is a prequel of sorts to Exodus.
He told The New York Times that he's wanted to make a film of the book for some time,
As a kid I swore to my aunt that 'Mila 18' would be made into a great movie, and the rights to it ended up being owned by everybody but me over the years. Then a year and a half ago I got the rights, and now it's finally going to be made into a movie, and I might direct that movie myself because I swore to my aunt that I would make it.
And explained why the book struck such a chord with him,
Guys like me, we grew up with two kinds of Jews — you know, the Jews who marched into the concentration camp and the Jews who fought… Uris's books were about the Jews who fought. So for us, as young kids, you know, this was the movie where we had our first Jewish hero. I'm sure blacks must have felt the same way when they saw Sidney Poitier, standing up to bigots…. Suddenly for us there was this new Jewish way of thinking… Instead of growing up to be a professor, a lawyer or a doctor, you could grow up to be a soldier, you know, for your people. You can be tough. You can be John Wayne, too.
Speaking at the Zurich Film Festival this week he again spoke of his desire to make Mila 18. According to Variety, who were in attendance he is "definitely moving ahead with Mila 18" and quoted him as saying that,
We will make that movie, sooner rather than later.
So he'll be making it soon but will he be releasing it soon after that, or will it sit on a shelf collecting dust, as many of the The Weinstein Company's acquisitions do?
Here's the trailer for Harvey and Bob Weinstein's 1986 directorial debut Playing For Keeps, in case you've never seen it.
[youtube]http://www.youtube.com/watch?v=rPk5SmWDccU[/youtube]