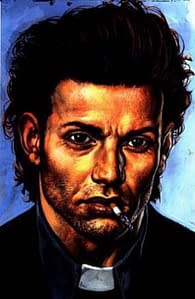 Disturbia and I Am Number Four director DJ Caruso appears to have tweeted that he's locked down the directing gig for the big screen version of Garth Ennis and Steve Dillon's Preacher comics. It's an american road story with huge, epic paranormal elements – ie. God and the Devil and demons and vampires. And it's rather beloved.
The tweet says:
My deal just closed on Preacher. Going back to the dark side and pretty fucking pumped!
But… it comes from an unverified account,with very few followers.
To my eye, it's a pretty realistic looking series of tweets though, so you never know. We've e-mailed Caruso's reps, so there could be a rock-solid confirmation coming very soon.
UPDATE: This was originally suggested by Slashfilm last week. Now, Collider say they have more confirmation than the tweet alone – but haven't said what it is.

SECOND UPDATE: And now The Hollywood Reporter are confirming the story too.
Enjoyed this article? Share it!