"HAVE MERCY!"…On The TV Revival Madness
Yes, it's true. Nostalgia is in the air…but the word around town is this might be a bad thing. In a recent article from E! Online, a writer claimed that the TV industry has fallen into some kind of revival madness.
Chris Harnick wrote:
"But there is a problem with this revival madness: There's too much love for these shows, which is why the series is being revived in the first place. It's a blessing and a curse. When there are disappointing developments, they become news. When the revival fails to live up to the previous run—for whatever reason—the fans feel jilted. Perhaps the biggest example of this: What happens when the whole cast can't get back together again?"
(Source.)
Sure, there has been a lot of that going around, but is it really a bad thing? Using disappointing developments such as the series not living up to its reputation or fans feelings getting hurt, as reasons is just silly. It's simply not enough.
Unless you are the most naïve TV viewer on the planet, you should go into watching any kind of sequel or revival with realistic expectations. I think that's key. Sure, it's not going to be just like the show was. Most of the time certain cast members are too busy to join in. We've had recent dealings with that regarding Matthew Perry being absent from what is wrongfully being referred to as the Friends Reunion, and the Olsen Twins won't be a part of Fuller House. However, will that really stop fans from tuning in? I don't think so. I think the main thing is, most of the cast has to be there. When you think about it, Fuller House probably has the smartest angle. Granted, I haven't seen it yet, but the word around town is that the older generation part of the cast will be in the first episode. After that, the show will mainly focus on Candace Cameron-Bure, Jodie Sweetin, and Andrea Barber, with guest appearances from others throughout. It's enough nostalgia to make the fan base happy, with a new storyline to keep it fresh.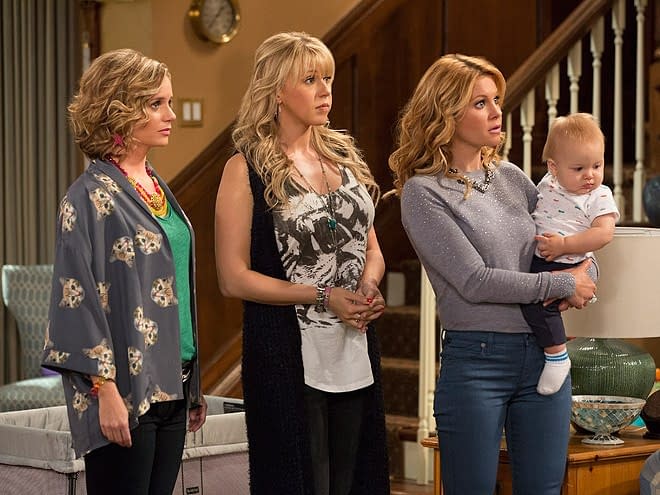 The truth is, fan feelings are hurt all of the time, and for countless amounts of reasons. That shouldn't be enough to prevent these series from happening. How could there be too much love for a TV show? I don't see anything wrong there. There's a reason fandoms exist. There's a reason social media is buzzing every time John Stamos tweets "Have Mercy." At this point we should be accepting the revivals with open arms, raising a glass to the fans that watch them, and spreading whatever news comes about.
Christine Marie is a Staff Writer at Bleeding Cool, Bibliomaniac, Aspiring Poet/Novelist and Dark Side Advocate. You can find her on Twitter and Instagram @AWritersWay or on her blog writerchristinemarie.wordpress.com.