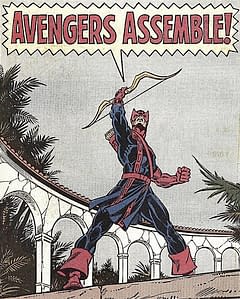 It's that on-again, off-again Thor rumour that seems, finally, to have been locked down. According to a new report, Hawkeye will be making a cameo appearance in Kenneth Branagh's Thor movie.
Jeremy Renner's casting in the role certainly took place early enough. If you think about when the other Avengers were clicked into place it was when they appeared in other movies – well, Incredible Hulk replacement aside. There wasn't really much need for Marvel to get Renner signed on for a film shooting in 2011 quite so early if they didn't have other plans for him first.
What we don't know, and neither it seems do The Wrap, who are reporting the cameo's existence with confidence, is just how and why the character turns up. Indeed, it could even be in a post-credits button, as with Mjolnir at the end of Iron Man 2, say. It doesn't sound that way, it sounds like he's in the "body" of the film, but it certainly isn't confirmed in their article.
The only other useful info that The Wrap pass on from their mole is that Nick Fury does not appear in the film.
Now – does this mean we'll be getting a look at the Hawkeye get-up in Thor? Will we be seeing an Avengers costume that Joss Whedon will have to inherit? Or was the scene shot late enough, maybe, that Whedon had design input? Or, on the other hand, will we just be seeing Clint Barton in his civvies?
Enjoyed this article? Share it!