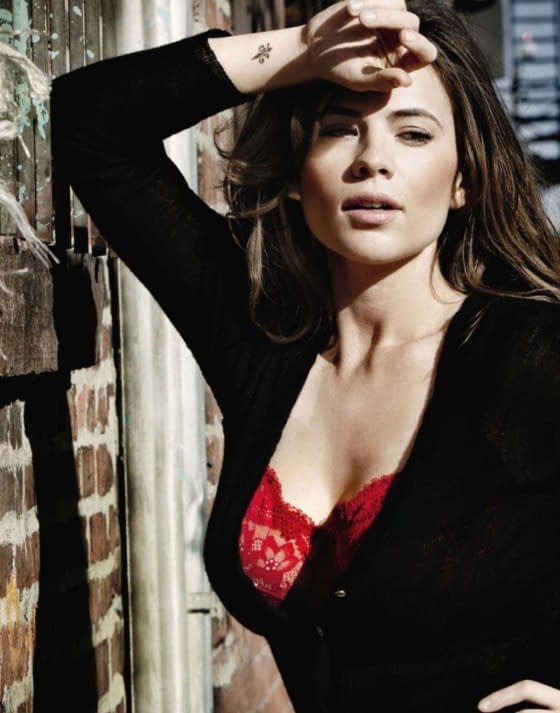 In September, we asked Hayley Atwell if she'd be coming back for the next Captain America film and reprising the role of… um… I know it's a Carter. I keep getting it confused. Shar… Peggy. Peggy Carter.
She said:
I can't say yet because it hasn't been officially released, and Marvel are very protective of their franchise.
And we assumed this meant Ms. Atwell couldn't say she will be coming back. Perhaps she meant she couldn't say she won't be coming back.
Time Out (via Hypable) interviewed Atwell towards the end of last year. Here's an excerpt from their piece:
It was last year's double-whammy of Golden Globe nomination for miniseries The Pillars of the Earth and blockbuster debut as Chris Evans's' all-action girlfriend in Captain America: the First Avenger that brought her to international attention. She won't, she confirms, be back for the latter's sequel, which moves the action into the present day.
Actually, as Marvel still hasn't announced anything, I can only assume Atwell has learned of her exclusion since September and sees no reason to not speak.
One gig she has booked – and, I believe, already filmed – is a role in the second series of Charlie Brooker's Twilight Zone-inspired Black Mirror.
And, odd footnote, Jessica Brown Findlay both appeared in the first series of Black Mirror and is said to be a frontrunner for the role of Peg… Sharon Carter in Cap 2.
Enjoyed this article? Share it!