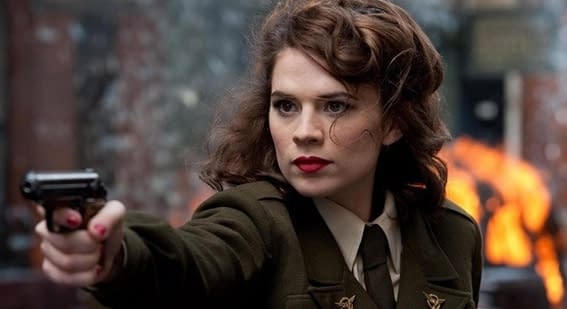 Hannah Shaw Williams is at the premiere of The Sweeney tonight, which you may recall Michael rather liked in his review, last week. She was able to catch a hold of co-star Hayley Atwell and get an update on her involvement with Captain America 2: The Winter Soldier.
Well, sort of.
When Hannah asked if she'd be back to reprise the role of Peggy Carter, maybe even take on the next-gen guise of Sharon Carter, Ms. Atwell couldn't manage even a proper non-denial denial, but she did say:
"I can't say yet because it hasn't been officially released, and Marvel are very protective of their franchise.
Which, according to the Bleeding Cool Translatatron, means she'll be back. Probably.
But who as?
Enjoyed this article? Share it!